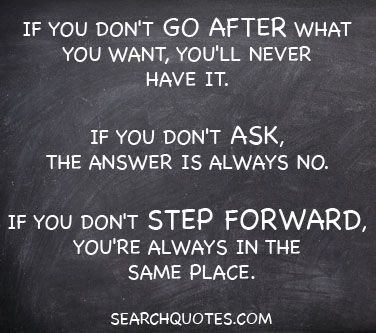 Real Time: Sunday, 9th March 2019.
Nothing will happen if you don't make shit happen.  
 
''What will be will be, what will happen will happen.'' Fuck that shit and mentality, it is wrong! We fall back too much on what is called fate. Fate is misunderstood, and it is an unfortunate fallacy. We have decided to interpret fate in our heads as a way of an escape, not to pull through and put in the work needed to succeed.  
 
I have said this before that this is such an insidious way of thinking and living that I have been trapped in for years. I plead with you now to do yourself a favour, get real and wake up.  

This is what fate means, straight from the dictionary: The development of events outside a person's control. Death is inevitable, out of your control. Believe me though, at least 98% of everything else you have control over, you have the ability, the power, and the strength to make shit happen for yourself. Either you believe this, or you don't.  
 
They say; Your life is a reflection of your thoughts. Your reality is a reflection of what you believe you deserve. Simple as that. Paulo Coelho says: ''When you want something, all the universe conspires in helping to achieve it.'' 
 
It will, however, not fall on your lap whilst you're idling. You must march on and go get what's yours. It's ready and waiting for you. True story.  

On Episode 1, I mentioned how I will share my story of how I landed my job as a Quality Assurance Rep' in one of the biggest companies in Africa. I figured that this episode is the best and most relevant to share. It has always been so personal and sacred to share with the world.  
 
It was the morning of the 3rd of October 2017 when I said a prayer that mother handed over to me on a piece of paper to pray over each time I am about to pay to my title. I said a specific prayer that morning, seeking God Almighty for change. I needed to get out of my current mess. What I called my dream and purpose was not working out for me anymore. I felt like everything had turned against me and I could not take it anymore. 
 
Pushing forward into the day, I met with a client, I was rendering my services to him and, of course,  he paid me in return. We had a harmonious working relationship throughout the months until the working relationship was just depreciating and it could not be saved anymore. It got so heated in the boardroom and I remember just slamming shut my laptop and leaving him in the boardroom. I was done, that was the last time I ever saw him. Legit.  
 
This meant that I was out of work, out of business as things had also fallen over with my other client just a few weeks before this incident. I was a complete mess! I was in a bad space; I did not know who I was. Actually, I do not think that I even knew who I was throughout my entire existence.  

I pushed forward into the day, it was now evening. I received a WhatsApp text from my brother regarding an interview in Randburg that did not really need a lot of formalities. I just had to have my CV with me and rock up at about 9:00 am the following day being the 4th of October 2017. 
During the day, my brother happened to be chatting with 1 of our family friends that long turned into family. If you've noticed, I do not really like name dropping, but I feel the need to do so in this regard. My brother had been chatting with Phemelo, someone I consider my other dear brother, even though I am a few days older than him (Just mentioning this to piss him off if he ever gets to read this!) 
 
Now what is special about this story is that, Phemelo is the one who had sparked conversation with my brother (my brother knew nothing about me losing ''everything'') and at the end of their convo he said to my brother, ''if Boitumelo is not working, she can be at this address for an interview tomorrow morning at nine''. I did not paraphrase, I copied that straight from my chats with my brother (3rd October 2017, 08:15 pm) which my brother forwarded straight from chats with Phemelo.  
 
On the morning of the 4th of October 2017, I did exactly as I was advised, arrived at the interview venue, with a bunch of people and we were placed in 1 room that looked like a boardroom. We wrote a couple of tests and we were done for the day. Before leaving for home, everybody was advised that, if they did not receive any communication the following day, being the 5th of October 2017, their application was not successful.  
The following day, the 5th of October 2017 – trust you me when I tell you that my phone was by my side the whole day – waiting for that ''life-changing'' phone call, the change I tithed and prayed for. I went to bed and received no ''life-changing'' phone call. This did not make sense because it was my only hope of ''change''.  
 
''They should have called me! I should have made it! Maybe there has been a bit of misunderstanding!''. I was trying to make sense of it all, oh LAWD.  
The following day, being Friday the 6th of October 2017. I realized that I had just lost everything, how was I going to live or survive? I was thrown in a river full of crocodiles and I had no choice but to save myself. I don't know how to swim but that day, on the 5th of October 2017, I would swim.  

It was early in the morning, I told my mother (she was visiting) that I had to go, and I would be right back. She thought that I was going to work (that no longer existed). She knew nothing, however, she knew that I had gone for an interview and, oh well things did not go well. 
 
My mother could see that I was not okay, she walked behind me, escorting me out the house right until the door while continuing watching me walk to the parking lot to get in my car and drive off.  
At this point, I was behind the wheel, on the road. So many things were going on in my head. I was asking myself; what are you doing? planning in my head; what the hell are you going to say when you get there? I eventually arrived, parked and chilled in my car for a while, still planning on how I was going to pull this one off. Well, I had to get out of the car eventually or drive back home 'cause of fear.  
 
I got out of the car, walked in and met the lady at the reception. I told her a story about how I think I missed their phone call because I did not really have my phone the entire time and I got a lot of missed calls, so I am just here to make sure and if someone can just check for me whether a call was made or not. She then asked to check my phone log and I knew right there that shit, this plan was an epic fail. She confirmed that I did not receive any phone call from them according to my phone log, I immediately pulled a confused face.  

I stretched it further and asked to see someone different, someone, who made the final call. "Please take a seat and someone will attend to you, 1 of the HR ladies," she said. I knew exactly who she was talking about because the interview was conducted by her.  

She had a very fast-paced walk, firm and somewhat approachable, but what I figured was, you had to know your story before approaching and wasting her time, she gave that vibe.  
 
From where I was sitting, I could see her from a manageable distance. I then realized that if I did not approach her she wouldn't attend to me, never. I was observant of her movements as she was walking from room to room with documents in her hands, still maintaining her brisk walk like ''I've got things to do, I am very busy''. This went on for a good 30 minutes! 
 
I remember standing to walk out of that building, with my thoughts fighting with each other, ''what were you thinking? Why are you still here? Just go home, man." There was NO approaching her. There she was, she was literally right there! By this time, I was already by the door ready to walk out and I paused, looked back and right there I made a decision to walk straight to her, (what worked in my favour was that I still remembered her name from the interview) called her by name to grab her attention and asked if I could just briefly have a minute with her. I repeated that lie, that nice story I had told the receptionist.  
 
What I did this time around was make sure that I gave off an approach of ''I am sure of what I am saying and if you did not make that call to hire me, then you are making a mistake'', I was selling myself, I spoke in such a confident manner that said "Please make a plan to get me in, I am valuable and worth it". She asked for my name and asked if I could wait for her while she checked.  This went on for another 20 – 30 minutes and eventually, she came back and told me the sad news of how I did not make the cut. After she said all of this she kept quiet, looked at me in that firm and interesting way for about 5 seconds and said to me, ''I might have something for you', please wait for me I will call you in a bit''.  
 
You can imagine how I was feeling, at that very moment! 
 
She did not take as much time as she did last time. She came to fetch me and asked me to follow her. We got to her office, sat, handed me half a bunch of CVs and asked me to look for my CV while she was doing the same. She found it, checked it and asked for my fingers to check for my records on the system for a criminal record. She complimented my nails and while all of this was happening, I was in a dazed state because she was not really saying anything.  
 
She eventually said, "training starts on Monday, the 9th of October 2017 for Quality Assurance Rep".
 
To be continued…